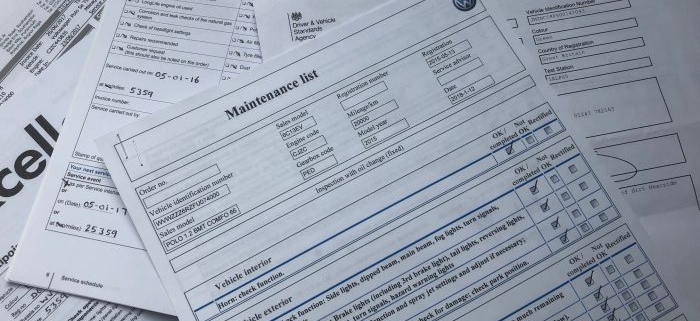 If you've been looking at used car listings recently you've probably come across the phrase 'full service history'. This indicates that the current owner has complete records of the maintenance carried out on a vehicle over the course of its life.
It's important to look for a full service history when buying a car as you want to know for certain that a vehicle has been properly looked after, and that the seller isn't trying to hide any mechanical issues that could come back to haunt you at a later date.
A survey of over 2,000 car owners found that almost half said that an incomplete service history would be a deal breaker and they wouldn't even consider buying a used car without a full service history, and those who would still buy without a service history expect a hefty discount to take on the extra risk of a vehicle with an unknown past.
If you're putting off your service to save a bit of cash now, you could pay for it dearly in the long run when it comes to selling your car. Keeping a full service history isn't just about getting the best value for money when you sell your car though.
Sometimes there are legitimate reasons for a car's service history being incomplete. The paperwork could simply be lost, or service stamps may be spread across the car's service book and garage invoices. But if you're worried about gaps in a car's history, there are ways of tracking down the missing information. You just have to know where to look.
Why are cars serviced?
Vehicles that are serviced to the manufacturer's recommendations will generally be better performing, more efficient, and cheaper to run. Services go through all the nooks, crannies, and quirks of your car to make sure everything's running as it should. It's also a great time to flag up potential problems that can be fixed cheaply before they become more of an issue.
Things such as tyres can be perfectly fine when checked for an MOT test, but may have significantly worn by half way through the year and a service is able to pick up on this for you.
Where to find it
Ideally, a car will have been issued with a service book in which the garage performing each service will log the vehicle mileage, detail the completed work and authenticate the information with a stamp.
Some drivers also ask for a receipt or invoice that itemises each job carried out and the costs incurred. Over time, this forms a detailed history of the maintenance conducted on a car, allowing you to track which parts have been repaired or replaced, and when.
These days, manufacturers also keep an online record of any car that's serviced by a franchised dealer. These can be retrieved by any dealership in just a few clicks.
How to track down missing service history info
If some of a car's service history is missing, you may be able to recover it. If you know that it has been maintained by a franchised dealer, your local showroom may be able to produce all of the documentation relating to the car's maintenance. This is more likely to work for newer vehicles, as older motors are less likely to have records stored online.
You will need to prove that you are the vehicle owner, ideally by showing a payment receipt signed by the previous owner. Producing the car's log book (V5C) won't be enough, as this only identifies the registered keeper. You'll also need the Vehicle Identification Number (VIN).
If your car has been serviced by an independent garage, you can ask them to produce copies of any documentation they hold regarding your vehicle, although they won't necessarily have these on file.
If you don't even know which garages have serviced your vehicle, you have two options. The first is to perform an MOT check on the government's website, for which you only need your car's registration number. You can then view the test location for each of the car's MOTs by entering your 11-digit V5C number: this could give you some clues as to where a vehicle was serviced.
Why is it so important?
There are three key reasons why service history is so important when buying a used car. Firstly, it shows that the car has been well cared for – regular servicing is essential to the health of a vehicle, and helps to stop problems before they happen. Buying a car with underlying problems can be extremely costly if you have no idea they exist.
Secondly, it points towards a reputable seller, who recognises the importance of keeping strict records of their vehicle. They want the buyer to be confident in their purchase, and it shows that they have nothing to hide, from previous repair work to the car's mileage.
Thirdly, service history, particularly a FSH, increases the value of the car by up to 100 percent – which will benefit you should you decide to sell it on.
https://roadwheel.co.uk/wp-content/uploads/2021/04/Service-History.jpg
510
700
Roadwheel
https://roadwheel.co.uk/wp-content/uploads/2019/03/WebLogo-1030x262.png
Roadwheel
2021-04-13 10:15:22
2021-04-13 10:15:22
HOW IMPORTANT IS CAR SERVICE HISTORY?