Rory continued his show of form by winning the Peter Young on Sunday after a perfect lead out from all the guys making it a brilliant team performance. Rory talks us through how it went below.
Foxy, Mac, DC, Mitch, Lewis and I rolled out for this year's Peter Young. This is a local race for many of us, and is only a 15 minute ride from my house, so I was really motivated to do a good ride. Confidence was high after last weekend at Jock Wadley, but after riding the Roy Thame RR on Saturday, I wasn't feeling as fresh as the week before.
The race was divided into two different courses which crossed over. The first lap rolled away from the HQ in Cobham and included seven and a half laps in a figure of eight pattern, before turning onto the shorter Staple Hill course for a further seven laps, culminating in a total distance of 87 miles.
The pace was high from the start as Mitch and I tried to split the bunch, but were being slowed by the support motorbikes in front. The bunch wasn't keen on letting too much go, and with a number of the 'bigger' teams like Richardsons Trek, Nuun Sigma Sport, Catford and ourselves having raced the previous day, it discouraged breakaways from going on the larger circuit.
DC and Mitch did a great job at getting in both moves and keeping the pace high. On the last lap of the big circuit, DC infiltrated a strong group of 8 riders, who worked well to build a lead of 40 seconds. We wanted to dominate this race, and with that in mind, Mitch and I hit the front to pull the group back.
Two laps in on the smaller circuit, Foxy went away solo on a small drag, about a lap later, a Twickenham rider went across to him. The duo worked well and were holding the bunch behind at 30 seconds. The 5 remaining Pedal Heaven riders were all present at the front of the peloton, keeping an eye on other attacks and staying out of trouble.
With a lap to go, Foxys gap had reduced heavily and was now insight. The guys had to keep the pace high to deter attacks and keep me in position at the front of the bunch ready for a sprint. 2km out Foxy was caught, and immediately got involved with the lead out. With Lewis and Foxy sweeping either side of me, Mac led us into the final corner and out, then Mitch took over and went really hard for about 300 meters. Finally, DC went for it and I came off his wheel with 200 meters to go, I was over geared on the uphill sprint, and wasn't sure if I could hold on, but the pictures showed a clear gap and DC managed to hold onto second.
Absolutely thrilled to get my hands in the air after a well-controlled race and perfect lead out from the guys.
Thanks to Hugh McManus for the Photo's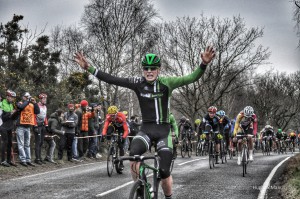 https://roadwheel.co.uk/wp-content/uploads/2015/03/DSC_5558a.jpg
2662
4004
Roadwheel
https://roadwheel.co.uk/wp-content/uploads/2019/03/WebLogo-1030x262.png
Roadwheel
2015-03-25 17:13:53
2015-03-25 17:21:31
Rory takes the honors at the Peter Young road race