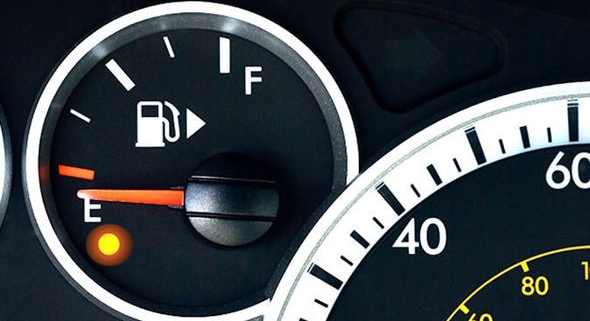 How many of us have seen the red fuel light flash on and carried on to our destination without stopping to fill-up at least once? We have all done it, but some people push it a little too far and can end up being responsible for a spate of traffic jams.
In 2015, a survey by LV Road Rescue reported that over half a million motorists admitted to driving with their fuel warning light on, running the risk of a roadside breakdown by driving with very low fuel. As a result, the report also claimed that more than 800,000 motorists had to be rescued from the roadside due to running out of fuel.
Drivers overestimated how much fuel they had left in the tank, with almost one in four drivers believing that, once their fuel light came on, they could squeeze another 40 miles out of the tank before hitting empty.
The actual number of miles that the UK's most popular cars can achieve once the fuel light comes on is dependent on a few factors, from your driving style to the condition of your vehicle.
A common belief is that on average a car can go for roughly another 40 to 50 miles after the warning light goes on, but it isn't that straightforward. The range on the fuel gauge is usually based on the average miles already driven – so what the gauge shows may not be accurate for your current driving conditions.
How long can you keep going?
Below are some of Compare the Market's findings when it comes to the average distances that can be driven after a warning from the fuel light.
Car / Miles left
Ford Fiesta / 37 miles
Vauxhall Corsa / 36 miles
Ford Focus / 41 miles
Volkswagen Golf / 44 miles
Nissan Qashqai / 43 miles
Volkswagen Polo / 42 miles
Vauxhall Astra / 30 miles
Audi A3 / 43 miles
Mini Cooper / 44 miles
BMW 3 Series / 44 miles
The data above was calculated using fuel tank capacity and MPG data sourced for each car. The MPG data was pulled from well world usage rather than manufacturer figures to achieve a realistic representation. As 10% capacity is, on average, the level that the low fuel light turns on for most modern models, this was also taken into consideration. These values were used in the following formula to calculate the average miles stated above: MPG x (tank capacity – 10% fuel capacity)
It turns out that cars can still travel quite a distance even after they've reached low fuel levels. However, while your car can potentially continue to run 50+ miles before running out of fuel, it's important to note that driving with the fuel warning light on should be massively avoided. By driving with low fuel levels, you could end up facing the inconvenience of being stranded by the side of the road, as well as causing damage to your vehicle in the process.
What are the consequences of running on empty?
When it comes to running on low fuel, usually our only focus is on how far the nearest petrol station is and whether our car will be able to get there before the fuel runs out. But it's important to know that allowing your fuel tank to run on empty can damage your engine, as well as cause several problems to your fuel system.
Your car's fuel pump is designed to sit submerged in fuel, using petrol as a coolant, and when there is not enough gas in the tank, the fuel pump can become exposed and overheat internally. By continuously running on low fuel, you'll end up wearing out your fuel pump, as the lack of fuel allows air to be sucked in – which overheats inside the pump. It's worth noting that any issues with the fuel pump's functionality affects the flow of fuel to the engine, and a broken fuel pump means that you won't be able to start your engine.
Your fuel pump isn't the only damage that can be done to your car by low fuel levels – your fuel tank can also be at risk. Many drivers aren't aware that rust and sediments like dust, dirt and even rocks can enter your fuel tank for a variety of reasons. So, when you allow your car fuel tank to run low, the sediment in your tank can get sucked into the system and clog the fuel filter, the fuel-pump or even the fuel injector. This negatively impacts your car's mileage and fuel economy, depreciating the condition of your car.
Just because you can, doesn't mean you should
While many vehicles can travel a far distance despite being on low fuel, this shouldn't be a reason to not fill up your car. When it comes to fuel, ensuring that your car's fuel tank is kept topped up will help you avoid any premature repairs that can be caused by low fuel levels.
It's recommended to keep your fuel tank at least ¼ full and to fill up before heading out on a long trip, as this will greatly reduce the likelihood that you will dip into low fuel levels. After all, you never know when you might get stuck in traffic – and running out of fuel can add long delays to your journey!
https://roadwheel.co.uk/wp-content/uploads/2021/01/Engine-fuel-light-895189.jpg
350
590
Roadwheel
https://roadwheel.co.uk/wp-content/uploads/2019/03/WebLogo-1030x262.png
Roadwheel
2021-01-15 10:22:54
2021-01-15 10:24:30
HOW LOW CAN YOU GO?