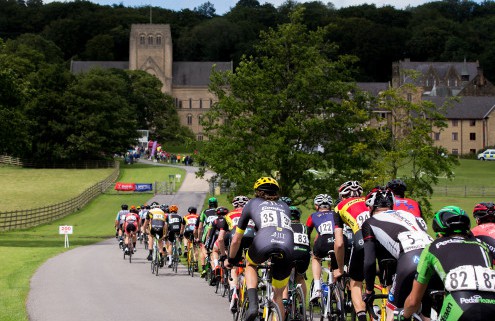 Ian Bibby of NFTO took his second victory of the British Cycling 2015 Elite Road Series in the Ryedale Grand Prix, snatching a last-gasp win at the end of a thrilling race.
With a group of ten riders in contention on the final lap, Bibby just caught Tom Moses of JLT Condor after his rival had attacked with the end in sight.
It was a fitting end to what was a pulsating contest with attacks coming thick and fast throughout the 150 kilometre race.
With 119 riders lining up at the start of the race at Ampleforth Abbey, the rain that blighted the women's race in the morning had eased off and there was action from the gun.
Steele Von Hoff (NFTO), Marcin Bialoblocki (One Pro Cycling), Matt Cronshaw (Madison Genesis), Sam Lowe (Raleigh GAC), Steven Lawley (Neon-Velo) and Christopher Lawless (Team Wiggins) formed an early leading group.
The six riders worked well together, building a lead of 46 seconds and reaching speeds of 50mph on the descents.
The gap was soon reduced to 33 seconds with the JLT Condor riders particularly active in chasing down.
The leaders had 38 seconds at the end of the first lap of the larger circuit which the riders made their way around before finishing on five laps of a smaller circuit.
Matt Cronshaw's chances took an early blow when he crashed out on a climb, his front wheel sliding out from under him. However, he climbed back on his bike and rejoined the race.
JLT Condor stepped up their pursuit of the leaders but the gap still increased to 47 seconds.
It dropped to 40 seconds on the final lap of the big circuit but by the end of the lap, it had jumped back up to 50 as the sun began to shine.
At the 50-mile mark, the break was finally caught and from this point on, the race became very exciting with attack after attack being launched right up to the end.
A win for overall standings leader Steve Lampier would really have put him in the driving seat for the title and he was active at the front of the race, looking to find a way to victory.
Tom Stewart of Madison Genesis and Joe Moses of JLT Condor were also in contention at this stage.
The race exploded into action, first with a 12-man break gaining a 23 second lead before being caught to form a group of 35 riders.
Marcin Bialoblocki (One Pro Cycling), Karol Domagalski (Raleigh GAC), Tom Moses (JLT Condor), Mark McNally (Madison Genesis), Tom Stewart (Madison Genesis) and Rob Partridge (NFTO) pulled out a gap over the chasers with George Wood of Richardsons-Trek joining the break soon after. Ian Bibby and Eddie Dunbar, both of NFTO, also bridged across.
With two laps to go, 20 riders were vying for victory in that lead group and they took no prisoners, continually having a dig.
With one lap to go, the deciding break occurred with Karol Domagalski (Raleigh GAC), Tom Moses (JLT Condor), Ian Bibby (NFTO), Steve Lampier (Raleigh GAC) and Dan Fleeman (SportGRUB Kuota), Madison Genesis' Erick Rowsell, Stephen Williams (Pedal Heaven), Dale Appleby (NFTO), Eddie Dunbar (NFTO) and Marcin Bialoblocki (One Pro Cycling) forming a break of 10.
They had a lead of 39 seconds over six chasers, setting up a nail-biting finish.
Appleby, Bialoblocki and Dunbar were suffering and eventually dropped off although Bialoblocki found the strength to come back.
Meanwhile, Bibby made an attack but was reeled back in before Stephen Williams (Pedal Heaven) countered.
Moses then pulled away with 3km remaining but Bibby managed to catch him on the line to win.
Ian Bibby said of the race: "The Ryedale is always a really hard one. Every year it goes really early. It was a bit different this year because a break went but without any climbers in so it was more controlled for the first hour.
"When we went on to the small circuit, I said to Eddie, because we're both climbers, we need to make this really hard or it's going to end up in a sprint with too many lads.
"So from then on, for five laps on the small circuit, every time we saw a hill we just went flat out. It kept splitting and coming back. People like Marcin kept getting back on and we didn't want that because he's fast in the finish. So on the last lap, we went really hard but he got back on with 2km to go. Then the crosswinds hit and everyone was in ones and twos at the end. Everyone was in the gutter, we were just flat out.
"Tom was riding really well, it was every man for himself at the end. Rob Partridge did well and Dale, we all did a really good team ride. We had people in every move. I started the season well, won a couple but then died off a bit. I really got my head down the last few weeks and it paid off."
Result:
1    Ian    Bibby    NFTO    03:50:49
2    Thomas    Moses    JLT Condor    4
3    Peter    Williams    One Pro Cycling    7
4    Steve    Lampier    Raleigh GAC    10
5    Erick    Rowsell    Madison Genesis    same time
6    Marcin    Bialoblocki    One Pro Cycling    25
7    Dan    Fleeman    SportGrub KUOTA Cycling Team    28
8    Karol    Domagalski    Raleigh GAC    37
9    Eddie    Dunbar    NFTO    01:53
10    Dale    Appleby    NFTO    02:11
11    Mark    McNally    Madison Genesis    02:56
12    George    Wood    Richardsons-Trek RT    02:57
13    AdriÇ    Moreno Sala    Velosure Starley Primal    03:01
14    Liam    Holorham    Madison Genesis    03:03
15    Stephen    Williams    Pedal Heaven RT    same time
16    Thomas    Travis Pollard    Polypipe Cycling Team    03:10
17    Tom    Stuart    Madison Genesis    03:19
18    Will    Fox    Pedal Heaven RT    04:12
19    Jake    Tanner    Team 3M    same time
20    Dexter    Gardias    One Pro Cycling    04:33
https://roadwheel.co.uk/wp-content/uploads/2015/07/C12V9333-495x400.jpg
400
495
Roadwheel
https://roadwheel.co.uk/wp-content/uploads/2019/03/WebLogo-1030x262.png
Roadwheel
2015-07-23 15:36:57
2015-07-23 15:40:38
Ryedale GP