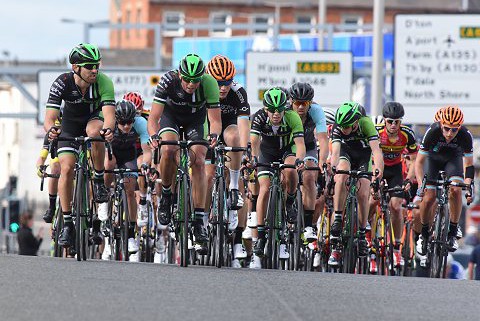 After a brilliant race on Friday evening in the Elite Circuit Series we turned our attentions to Sunday with a 110 mile road race. A report below from British Cycling lets us know how it went.
After a number of early breaks, George Atkins and Ian Bibby managed to build a lead before being caught on the finishing course.
One Pro Cycling got their tactics right in the end, ensuring that Opie, 27, crossed the line first in a bunch sprint.
It is Opie's third win of the season after prevailing in the Les Ingman Memorial and the Harrogate Big Bike Bash.
The Stockton Grand Prix was 110 miles of racing with 10 laps of a large circuit being completed before the riders move on to a smaller finishing circuit for six laps.
The race saw a number of attacks go in at the front right from the off with Tom Bustard of Giordana-Mitsubishi Electric RT being caught after an attempt. Tom Stewart of Madison Genesis responded almost immediately with an attack of his own.
Andrew Coupe of Wheelbase Altura MGD and Ian Wilkinson of Team Raleigh GAC then opened up a small gap at the front but were soon reeled back in.
The first significant break saw a group of 13 riders peel away but it was caught. The race was being contested at a furious pace with the riders covering 28 miles in the first hour.
Next to attack were Daniel Patten of Team Wiggins, Gruffudd Lewis of Pedal Heaven RT and NFTO's Rob Partridge. Matt Cronshaw (Madison Genesis), Jacob Tipper (Neon-Velo Cycling Team) and Jon Mould (One Pro Cycling), joined them shortly after to make a group of six out at the front.
A group of ten riders then took a 28-second lead off the front with Handley, Auld, Bibby, Partridge, Moore, Cronshaw, Lewis, Patten, Mould and Tipper all involved.
From this break, Ian Bibby (NFTO) and George Atkins (One Pro Cycling) put a huge attack in and went clear at the front. At the two-hour mark, the leaders had covered 55.8 miles.
Atkins and Bibby then worked hard out at the front, extending their lead to 25 seconds.
Jez McCann of Catford CC, SportGrub KUOTA's Adam Kenway and David McGowan of Pedal Heaven chased Atkins and Bibby down, 27 seconds behind. By this time, the peloton were a minute off the pace.
With two laps to go of the large circuit to go, Roger Hammond has put his Madison Genesis team on the front of the chase and the gap that Atkins and Bibby had worked at started to drop.
However, Atkins and Bibby continued to grind away and were still out on their own with one lap of the larger circuit left.
As the leaders headed towards Stockton for six laps on the finishing circuit, they upped their pace considerably and managed to stretch the gap out to 48 seconds.
After leading the race for 46 miles, Atkins and Bibby did eventually succumb and they were swallowed up by the bunch, controlled by One Pro Cycling. With just one lap remaining, all of the teams jockeyed for position, looking to give themselves the advantage in the bunch sprint.
And it was One Pro who timed their move to perfection, allowing Opie to take victory.
Speaking after the race, Opie said: "The race went to plan for us, we intended to lead the race out in the last 3km but at one point there were about five of us and a group of 11 with 90km to go and it was a lot earlier than we planned.
"But we eased up then and George went away with Ian, we let the other teams take up a little bit. I was a little bit surprised how keen they were to ride. We had Madison at the front, then Pedal Heaven. It really played into our hands because we knew it kept our plan of going for it at the end. The last couple of weeks have gone really well for me and it all played out.
"The training programme doesn't feel fantastic when you're doing it, Steve Benson's pretty evil. You open your diary and think, 'I don't think he likes me very much'. But you go out, you do the ride and you go home and think it was awful and I've got to do it again tomorrow. But you get a lot of confidence from doing that.
"I've worked with Steve for five years and you still feel like every year is a progression and you rarely do the same training session. He's a mastermind. A pure genius. I wouldn't still be racing if it wasn't for him.
"One Pro Cycling were fantastic today, every rider did exactly what we talked about in the briefing."
Result:
1 Chris Opie One Pro Cycling 110 miles in 3:57.18
2 Jonathan McEvoy NFTO
3 Sam Lowe Raleigh GAC
4 Evan Oliphant Raleigh GAC
5 Graham Briggs JLT Condor
6 David McGowan Pedal Heaven RT
7 James Lowsley-Williams NFTO
8 Steve Lampier Raleigh GAC
9 William Bjergfelt SportGrub KUOTA Cycling Team
10 Ian Wilkinson Raleigh GAC
11 Rory Townsend Pedal Heaven RT
12 Christopher Lawless Team Wiggins
13 Alex Paton Pedal Heaven RT
14 Matt Cronshaw Madison Genesis
15 Will Fox Pedal Heaven RT
16 Andrew Hawdon Raleigh GAC
17 AdriÇÿ Moreno Sala Velosure Starley Primal
18 Thomas Moses JLT Condor
19 Lloyd Chapman Richardsons-Trek RT
20 Jacob Tipper Neon-Velo Cycling Team
https://roadwheel.co.uk/wp-content/uploads/2015/07/0_StocktonGP_05.jpg
334
480
Roadwheel
https://roadwheel.co.uk/wp-content/uploads/2019/03/WebLogo-1030x262.png
Roadwheel
2015-07-15 15:19:27
2015-07-15 15:20:07
Stockton Road Race